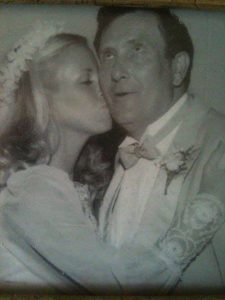 When I was two years old, my father was diagnosed with rheumatoid arthritis.  He was primarily affected in his hands and feet which was not easy for a man who made his living as a barber.
He had a stool that attached to his barber chair that enabled him to sit and work.  He continued to work until I was twelve, just long enough for my sister to finish college.  Then his health forced him to take early retirement.
When he taught Bible classes or filled in to preach, he had a kitchen stool that he would sit on since he couldn't stand very long.  His hands were twisted and terribly disfigured.  Because of severe deformities in his feet, he could only walk short distances.  I've heard my mother say that there were times when he was having a flare up that it hurt just for the sheets to touch his feet.  While I knew he had arthritis from seeing his twisted hands and crippled feet, his arthritis was never a burden to me.
He never complained at home, nor did he spend his time telling everyone else about his pain.  He was a strong, quiet man who just appreciated all the ways that the Lord had blessed him.  He never missed a school activity in which I participated.  He never missed church services because of his pain.  He served as an elder for many years. He did all he could do for as long as he could.
May we follow his example and remember the Lord's words: "Do all things without complaining or disputing" (Philippians 2:14).