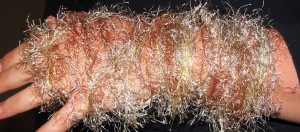 Jacob & Esau was such a fun week!  For story time, I had the children sitting around me as I told the story.  We talked about Jacob being smooth, but when it was time for Esau being hairy, I had a fun surprise!  I bought a skein of fuzzy yarn from the craft department.  I had a very long piece wound around my arm to make my arm feel like Esau's hairy arm.  The kids loved touching my arm, so I gave each of them a piece to loosely wrap around their own arms.
(Ok, I know this is creepy, but the kids really liked it!)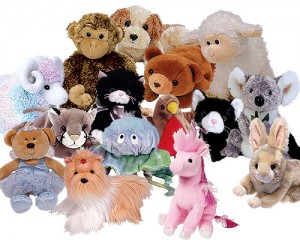 Before class, I went to our children's library and "hid" Beanie babies all around the room.  Of course any room not in use during class time would work just fine.  After telling about Esau being a hunter during our story, what do you think we did?  We went hunting, too, just like Esau.  I gave each child a plastic grocery sack and told them to go hunting for animals.  (In other words, we did the Esau version of an Easter egg hunt!)  After hunting, we were SO hungry (just like Esau) that we needed a little stew for a snack.
Before class at home, I cooked a small amount of meat with a little onion, salt, pepper, & garlic powder for seasoning.  (You could use hamburger or any other beef).  I took the meat to class in a small crock pot.  I brought small cans of tomato sauce, diced carrots, diced potatoes, green beans, carrots, corn, and peas.  Each of the cans was opened and drained before class.  Next, the children each had a can to contribute to the stew.  After adding their can, the stew needed a good stir!  When all the cans had been added, we let the Jacob stew heat while we were on our Esau hunt.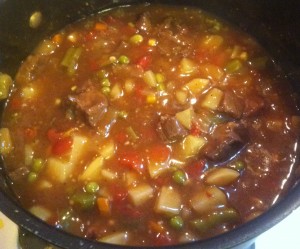 Of course during all these fun activities, you must continually remind the children of the Bible story that you have learned.  We went over and over the concepts about Jacob & Esau, their jobs, what they looked like, that they were brothers, etc.
When the parents came at the end of class, the kids were still eating their stew.  This was a 2 & 3 year old class, so I had just given small amounts since I wasn't sure if they would like it.  I had one little boy who couldn't get enough.  He ate four bowls before we were through!  Another little girl's mother who came to pick her up couldn't believe that her child had eaten vegetables.  Of course I knew the secret to why they loved it.  It wasn't just vegetable soup.  It was JACOB stew!  That just made all the difference!