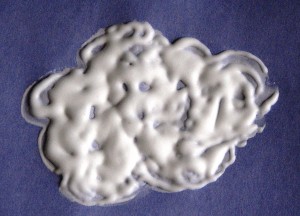 I learned about this SO easy, cheap, and cool painting technique from an occupational therapist that I worked with.  My class in school frequently painted a large door decoration as a group project or made individual pictures to go with a holiday theme.
This mixture is a puffy paint that has a soft, raised texture like puff paint that can be bought at school supply stores.  If you want to add color, you may add a little tempera paint or food coloring.  Just be careful about children's clothing.
Depending on the age of your students who are using this paint, you can give them a pattern that they are to paint inside the lines, or give them a large piece of paper and let them create anything and then cut it out later if you want.
In Bible class, I used this for my 2 & 3 year old class, but certainly children older than that would enjoy it, too!  I took a large piece of blue bulletin board paper and taped it to a very long section of my classroom wall.  I let the children "paint" anywhere and any way they wanted as long as they kept it on the big paper.  This activity went with the lesson on the Israelites wandering in the wilderness and following the cloud during the day.  During the week after our class when their masterpiece was fully dry, I took it down and cut out large clouds from the puffy painted paper and hung those up individually.  The kids had a great time painting the clouds!
Materials:
Shaving cream (really cheap is great)
White glue (like Elmer's)
Directions:
In a large bowl, mix equal parts of shaving cream and glue.  You'll just have to eye-ball how much you want to make based on the project and number of children who are painting.  When mixed, the consistency is a little stiff & solid like when you form stiff peaks in baking.  If you hold up the spoon, it will stay on the spoon and not fall off right away.
After mixing, you can add tempera paint or food coloring if you want color, or leave it white.  Depending on the project, I have sprinkled glitter on the wet paint and then let it dry.
Any art created will need to dry overnight.  Also, the paint will dry out and not keep for too long.
This puffy paint is certainly fun to paint with and fun to feel.