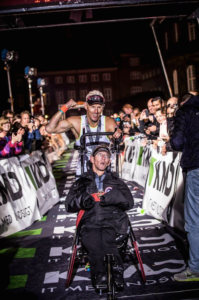 In 2014, Peder Mondrup became the first man with cerebral palsy to complete an Ironman triathlon competition. Peder and his twin brother, Steen used special equipment which allowed Steen to swim 2.4 miles while pulling Peder on a raft. He biked 112 miles while Peder sat in front of him. And he ran 26.2 miles while pushing Peder in a wheelchair across the hilly terrain. It took the team 15 1/2 hours to complete the challenge in Copenhagen, Denmark, but they finally crossed the finish line together with dozens of spectators cheering them on!
Isn't that what Christians are to do for each other? Getting to heaven is no easy task. Obstacles get in our way. We get exhausted and discouraged. But as Christians, we can bear one another's burdens (Galatians 6:2), comfort the faint-hearted and uphold the weak (1 Thessalonians 5:14), and lift others up who are falling (Ecclesiastes 4:9-10). As the members of God's family, we can push, pull, or carry each other to help one another get to the finish line.
Hebrews 12:1-2 reminds us that we are surrounded by a great cloud of witnesses, so we need to lay aside every weight and sin which so easily ensnares us, and let us run the race with endurance. No matter what the challenges and difficulties in life, never stop running the race!