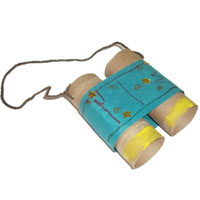 When my preschool age children learned the story of Joshua and Caleb spying out the promised land, we made these totally cool binoculars.  You can read more about our adventures  including gigantic grapes and spying out the land for giants in the Bible Lesson section.  You could also use a paper towel holder to make a "spy glass".  So here are the instructions that I found for making the binoculars.  I found this craft on www.twigglemagazine.com.
Materials
2 toilet paper rolls
Construction paper
Crayons, markers, stickers
Glue
Scissors
Yarn
Directions:
Cut a 2½ inch wide strip from construction paper lengthwise.  Let children decorate the strip with crayons and stickers.  Punch one hole at the end of each paper roll. Let children paint strip around the other end of the paper roll and let dry. Add glue to the middle of the paper rolls. Place strip colored side face down on the table. Place paper rolls one inch apart on the strip. Let dry. When dry, add glue to the strip and wrap around the paper rolls.  Place a book on the top to hold in place while drying.  Thread a length of yarn through the holes to make a necklace for children to wear the binoculars.