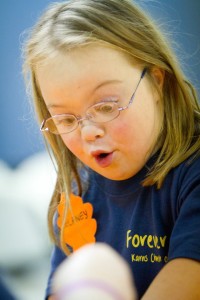 As I write this post, I am also beginning preparations for our first ever Valentine Party/Parents Night Out for our special needs friends in the church and in the community.  I realized that I never followed up to let people know what an incredible day we had at our fall day camp!  I could not have been any more thrilled at the results!
So what positive results did we have at our congregation and why do I want your congregation to have this experience too?
1)  We provided a very special and accommodating  experience for children who are typically left out of activities that typical children take for granted.  We had a family who drove 3 hours from home and spent a night in a motel just so their child could be a part of our camp. Those of us with typically developing children take so much for granted.  Camps, Vacation Bible School, holiday parties and  Bible classes are just a few examples. Overwhelming gratitude was expressed to me and to our church family from parents who have been told repeatedly that they weren't welcome. I saw comments on social media by parents who learned about our camp from other parents who had children in attendance expressing how unwelcoming their current religious group had been to their children and what a blessing the Karns congregation was to children with special needs.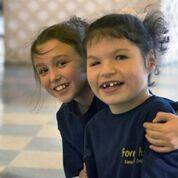 2) We made contact with families who do not have a church home.  Our day camp and  upcoming Valentine party/parent night out are free of charge and welcoming to all in the community.  In the months since camp, we have had one camper's family who were already Christians and new to the area place membership with us. They learned that we would love and welcome their child with special needs through our efforts at day camp. There are other families with no connection to Christ who came away with very positive comments and impressions of the church family here.  We  not only showed love for their children, but it opened doors to build relationships and talk to them about Christ.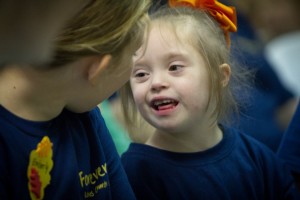 3) Perhaps the reason that might be least expected is how a program like this will change your members.  Many Christians do not come in contact with children and parents who have special needs on a regular basis.  They do not know the struggles of these families. They don't get to experience and learn the lessons that the kids will teach them in joy, compassion and gratitude.  As I've often said, these children are some of the greatest teachers that we can have in our lives showing us Christ-likeness.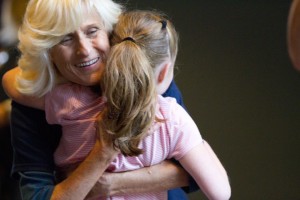 We are now less than 6 weeks away from our Valentine party/Parent Night Out!  I can't wait to see those precious faces again.  Seeing those little faces smiling at you and seeing the joy in the faces of your members who volunteer are the closest thing on this earth to seeing the face of Jesus!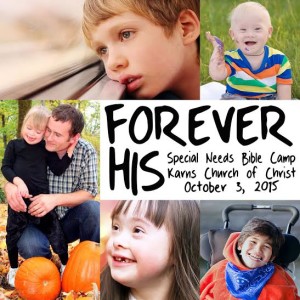 In my last post, I told of how our congregation at the Karns church of Christ decided that we wanted to be proactive in reaching out to children and their families in the special needs community. Never being a part of something like this, I felt somewhat overwhelmed and unsure of where to start. To keep things relatively simple, I decided that a one day VBS type day might be a place to begin.
We needed a name for this group. My husband mentioned "Forever His" which was not only a name, but a description. It was perfect! These little ones are now His and will remain in child-like innocence throughout their lives.
Once I had some rough ideas of what I wanted to do, I went to the elders to present my thoughts. They were totally encouraging of my ideas and gave approval to move forward! Once a date was set and I began telling people, there was no turning back!
You may be asking, "What is different about this day from a typical VBS or day camp?" I am all for these kids being included in our regular Bible programs. With modifications and assistants, most children can integrate into regular programs. However for this day, we wanted the child with special needs to be the focus. There are many considerations which are not needed with typical kids. What do you do with a child who has seizures, a feeding tube, a catheter, or other medical needs? What about the 6th grade child who is wearing diapers? What about a child with autism who has severe behavior issues and extreme sensory sensitivities? What about a child with special dietary restrictions? How do you accommodate a child with mobility issues? What do you do with a preschool child with autism who likes to pull fire alarms and run into the busy highway? How do you fully include a child with limited communication? Get the idea? There are many more considerations for a day like this than what curriculum we will choose or what kind of snacks we serve!
We decided to call this a "Fall Day Camp". We decided to limit this first event to around 15 children. At this time, we are not including siblings (just to keep things simple), but hope to include them in future activities. We set the date, planned a fall theme, and made a schedule of activities. These activity stations include songs, Bible story room, games, crafts, and outdoor activities. All these to be conducted similar to typical VBS, but with necessary accommodations. My husband created a beautiful brochure (http://karnscoc.org/download/forever_his/ForeverHis.pdf) and advertising of the event began. Our church secretary created a very detailed registration form for our church website where children could be signed up (http://karnscoc.org/foreverhisregistration). I scheduled a meeting to find out who in our congregation might be interested in volunteering. Volunteer opportunities included groups of people to help with each of our activity stations, set up/clean up, t-shirts, photographer, medical help, publicity, hospitality room for parents, building decoration/registration, and "buddies" for each child.  I was completely overwhelmed by the response! At this point, I have had approximately 70 people who have said they want to help! We limited volunteers to older teens and adults from our own congregation with the exception of one doctor and a speech therapist from neighboring congregations. There will be 2 physicians, 5 registered nurses, 2 speech therapists, 2 special education teachers, and a host of loving, good-hearted individuals! (Have I mentioned yet that we have an amazing church family?)
So that is where we are!  Now just 6 weeks away, I am SO excited! My excitement is for the children and their families who attend, but just as much for our church members. So many have never had first hand experience being around these kids. In fact, I know a secret that our hands-on volunteers don't know yet. They just think they are doing a service and kind deed for children who have special needs. What volunteers don't know is that these children have the potential to change their lives! The children will be their teachers and give them opportunity to learn lessons in compassion, gratitude, patience, and love. Our special guests will let us truly see Jesus and understand Him and His love in a whole new light!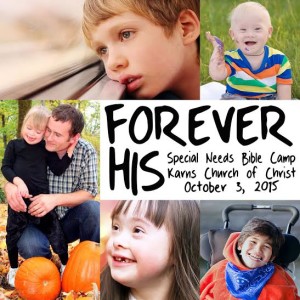 If you know me or have read my blog posts concerning special needs, you'll know that these kids are some of my very favorite people on the planet!  I taught kids with moderate and severe disabilities in the public schools for about 9 years.  I learned more Christ-like qualities from my students during those years than I could have learned in a life-time without them.
During those years of teaching, I became aware of an interesting and disturbing fact. With the dozens of families that I knew, only a fraction ever attended any type of worship service. With the few who did attend, it was nearly always the case that one parent attended while the other stayed home with the child. Though disturbed by this observation, I didn't know quite what to do about it. Unfortunately years went by and I did nothing. Like is so often the case, we get busy with our own lives, children, and jobs that we forget those who are invisible to us in our communities.
Last summer, thoughts of how to include children with special needs and their families came back into my thoughts. I had seen something come across my Facebook page of a denominational group who had a VBS just for these kids. That piqued my interest, so I began researching what others were doing within the church as well as denominational groups. I discovered a disturbing statistic. I read that 80% of families with a special needs child are not attending any type of worship service. These were the reasons given:
My child is not welcomed in any of the children's activities.
When I took my child to Bible class, he was wheeled to the corner and sat there until I picked him up.
It's not worth it. My child cannot handle the sensory overload.
When my child is loud, people stare at us and shake their heads.
I asked the leadership if we could find someone to help my child during Bible class, but I was told that they were not responsible to find me babysitters.
Does that break your heart like it does mine?  I can't help but think, "What if that were my child?" Again, it is easy to ignore this segment of society. It is hard work. It can be messy. It can be costly. It can be disruptive to our routine. But as Christians, how can we let these things dictate our response to those in need? Christ certainly didn't mind messy, disruptive people in His life. In fact Jesus said in Luke 14:12-14 "when you give a luncheon or dinner, do not invite your friends, your brothers or relatives or your rich neighbors;  if you do, they may invite you back and so ­­you will be repaid. But when you give a banquet, invite the poor , the crippled, the lame, the blind, and you will be blessed. Although they cannot repay you, you will be repaid at the resurrection of the righteous."
So now with the approval of our elders, the Karns church of Christ wants to be light to those in the community who have a child with special needs.  We are having our first, (hopefully of many), event to introduce these families to our loving congregation of God's people.  We are all very excited!  Stay tuned for my next post where I'll share more of just what we are doing and how we are getting it done!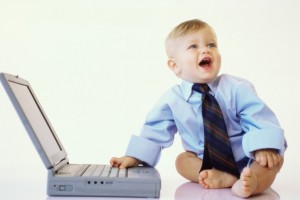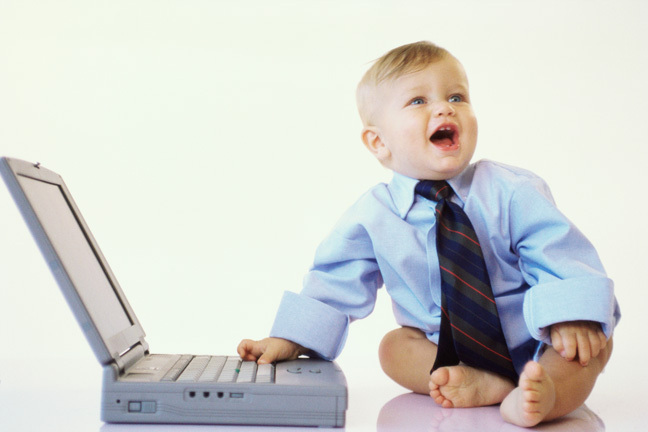 Aren't you continually amazed at how fast technology changes? What may be more amazing to me is how quickly I fall behind and how it comes so easily to younger generations!  You don't have to look far to see a baby on a tablet or a toddler on a computer.  Elementary age children can show their parents how to navigate the internet and nearly every teenager owns a smart phone!  Whether you consider yourself "techie" or not, technology is here to stay and younger generations will be using it!
School classrooms everywhere use technology by way of computers, smart boards, and iPads.  Even if you aren't comfortable with them, your students are.  Using technology in your Bible class is a great way to present Bible lessons and review memory work while at the same time keeping students engaged and staying relevant.
Though it should be obvious, I will remind everyone to proof everything you present to children.  Many great materials are available that can be used, but must be edited first.  Always be careful not to accidentally mislead those you teach!
Here are a few suggestions of how Bible class teachers can incorporate technology in the classroom:
Review Bible drills and review lessons by playing games.  One very user friendly site that I have found is SuperTeacherTools.net.  With this site, you can put in your own questions and answers so that you have a customized Jeopardy or Who Wants to Be a Millionaire game.
A great site for Bible quizzes and flashcards is Quizlet.com.  You can set up your own account to add questions on any topic you like.  Perfect for reviewing lessons!  While there, I found many sets of questions already made up for the Lads to Leaders and the Sycamore Bible Bowls.
Have you seen BibleForChildren.org?  That site has Bible stories chronologically for the entire Bible in every language imaginable.  You could use a Power Point to project the stories on a screen or wall.  You can also print off materials that would be perfect made into flip charts or take home work.  If you need materials to take on a mission trip, you can print everything in color, laminate, and you have a Bible lesson in any language you need!   Again, proofread everything first and skip the "sinners prayer" stuff at the end.
What about using short video Bible story clips in the lesson?  I do not recommend spending a bulk of your class time watching videos, but I have found several 5-7 minute story clips that could be used as supplemental material.  Again, be sure to preview for accuracy, but I found clips on You Tube and Vimeo with great lessons and animation.
Have you seen the app "Globible"?  It not only has the Bible text, but it is also multimedia presentations.  It includes maps, 3 1/2 hours of high definition videos, 450 virtual tours, and 2300 photos.  There are some things that are free, including small amounts of multimedia, King James and NIV translations of the Bible, but depending on what you want, you can get other Bible versions and all the multimedia presentations for $20-$50.
Does your congregation support any missionaries?  Think about using Skype for a lesson.  How cool would it be to study Paul's missionary journeys and then contact a missionary and his family through Skype?  Students could find out what it is like to live in another country, what is interesting about that country, what it is like to be a missionary.  How much fun and encouraging might that be to the sister congregation for your students to meet, talk, and ask questions to a group of children in their congregation?
Set up a blog for your class of middle and high school age students and post articles written by the kids.  For example, if you have a quarter long study on the parables, have each student write a post about one parable and give practical applications that was learned from it.   This will certainly develop higher levels of learning!
Have students use a video camera to develop a promo video or commercial.  It could be a promotional video about VBS that played during the church announcements.  Maybe students could write and star in a video based on a Bible story complete with costumes & props that could be shared with younger students.  Lots of possibilities!
Do you know about Ning?  I have not personally used it, but I worked in an elementary school where a teacher did with the students.  Think of a totally private, controlled social media that is administered by the Bible class teachers.  Kids can post pictures of their activities, projects, camp, VBS, service projects, or anything else to share within the closed group.  There is a free trial subscription that you can check out and then a regular subscription is just $25 a year.
Not every Bible class we teach has to have technology included, but with all the great possibilities available, let's mix things up once in a while and give our kids something to remember!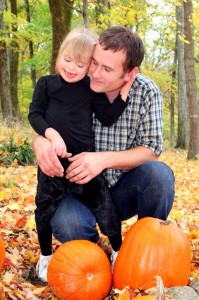 A year and a half ago, I had a precious five year old boy in my class who had mitochondrial disease.  It had affected about every organ in his little body.  One late November afternoon after a typically great day at school, he took a nap and never woke up.  He died of a grand mal seizure in his sleep.
While his family and those of us at school coped with the shock and loss, a school psychologist was sent to help with grief counseling.  She gathered the staff together to talk and one thing she said has stuck with me.  She said that we were probably all asking the question, "why".  Not necessarily why he died, but why were children like Eric born into this world with such difficulties and illness.  Before I even thought about what I would say, I blurted out, "I know why.  He was here to teach us."  I have learned far more valuable lessons from my special friends than I could ever teach them.  I taught them functional skills, communication,  and academics.  They taught me lessons about God.  Lessons that I'm not sure I would have ever known if not for having close personal relationships with them.
So what specifically did I learn and why do I believe that should you develop relationships with those who have special needs?  Here are just a few reasons:
You will learn compassion.  I saw so many children and their families who struggled in ways I could never imagine.  My students had dozens of surgical procedures, multiple hospital stays, countless hours of therapy.  I saw them struggle to do simple tasks that I never think twice about doing.
You will learn acceptance.  My special friends didn't judge others based on their appearance or differences.  It didn't matter if others around them were attractive or unattractive, dressed well or not, successful or failing.  When I was tired or having a bad day, they just threw their arms around me and loved me unconditionally.
You will learn patience.  The least little things can take so long.  Years were spent learning basic self help skills that a typical child will go through in a few weeks.  When a child learned to take a bite of real food for the first time after years on a feeding tube or when a child uttered their first word at the age of seven years old, it was cause for quite a celebration!
You will learn gratitude for your own blessings.  While I am healthy and my children were born healthy, I know that our bodies are never more than an illness or accident away from being a person with special needs.  I have learned to appreciate simple blessings like having eyes to see (one of my students did not) and being able to walk unassisted.
You will learn service.  Many special needs people need help with the most basic tasks.  Physical needs must be tended to.  Sometimes those things are distasteful, but we are never a more true servant than when we do things that others will not.  We also have opportunity in our service to not just do the things required, but do the task with a smile and a sweet word to the one being tended to.
You will have the opportunity to see eternal innocence.  Most individuals with special needs maintain a child-like innocence throughout their lives.  They are born sinless as we all are, but do not progress to the point of making sinful choices in their lives.
You will have an opportunity to see perfection in the sight of God.  While we see imperfect bodies and minds from our earthly points of view, God sees the perfect soul in the special needs friend.  We are the imperfect ones in the eyes of God.
If you do not have special needs friends in your circle, let me encourage you to do so.  I guarantee that you will never be more Christ-like than when you become as "one of the least of these my brethren".
(This photo is a beautiful girl and her daddy who are members of the church in Columbia, TN)