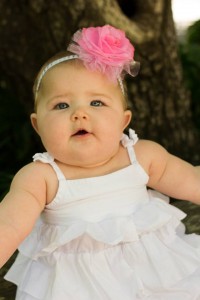 How can we encourage parents to bring their children to our Bible classes?  Can cradle roll class be used as an evangelistic opportunity?  Here are a few suggestions that I have on those questions.
1. We need to offer a high quality, sensory stimulating program where we are teaching babies the foundational principles of the Bible.  All children's Bible classes should keep Bible study as the focus.  Parents need to know that making the effort to come for class will really be worth their time and energy.
2. Make a demonstration DVD of a great cradle roll teacher conducting a class.  Share that video with expectant parents who may not have a clue what "cradle roll" means.  Share it with young parents within the congregation who may not know what opportunities are available for their child.
3. Seek ways to connect with parents of new babies and young children in the community to promote your cradle roll and children's programs.  Advertise what you have to offer with flyers in places such as public libraries that have children's story hours, pediatrician's offices, YMCA, and any other place catering to young children, (with permission of course).  Many young parents are looking for ways to interact with and stimulate their babies.  Look at the popularity of programs such as "Mommy & Me" type classes across the country.
4. Many events such as fall festivals, back to school carnivals, or community fairs will have tables set up handing out information to people in the community.  Use those opportunities to promote your programs and be sure to get addresses of those who show an interest. Then follow up with postcards or notes thanking them for their interest.
5. Use any media that is available.  Some community newspapers, radio stations, community calendars, and local television stations have space available for churches to use free of charge.  Take advantage of these resources. Write an article about all the positive things that the church is doing for the children.
6. Give a small gift such as a little New Testament along with an invitation and demonstration DVD to parents of newborns in the community.
7. Offer parenting classes for members of your congregation as well as those in the community.  Teach parents the importance of giving a child a good spiritual foundation just as they would give them a strong physical foundation.  Most parents know that they need help raising children.  They want advice and suggestions in areas such as how to discipline, but most parents also need help understanding how to install spiritual values (and they may not even know they need it)!
8. Have a church website?  Make a page devoted to your children's Bible class program.  Studies have shown that when someone is looking for a church home, they most often start by looking online at the website.  On your page, (which of course should be VERY visually appealing), include an area where you can "Meet the Teacher" for each class.  Have a photo, bio, and welcoming message from each teacher.  Include information about what lessons are being covered, what memory work is taught, etc.  Show photos of children engaged in learning in the Bible classes as well as participating in service or social activities.  Parents want to know that this is a church that loves children!
9. Does your congregation use power point for announcements?  Why not advertise and inform your congregation about what is offered for children.  Everyone likes to see pictures of adorable babies having a great time in class.  Better yet, imbed a video demonstration of what is happening in cradle roll.  Are your classes learning Bible verses, books of the Bible or other memory work?   Video it and put it on the big screen to scroll before services begin.  People will be more invested if they have information!
10. Don't neglect those who are already faithful in their attendance.  Express your appreciation to them.  Praise parents for getting their children to class every week.  Encouragement will help current members to stay committed.
So back to my questions.  Can cradle roll be used as an evangelistic opportunity in our congregations?  Absolutely!  If we are going to offer it, let's do all we can to promote it!