Today I did a teacher training session for the teachers at our congregation.  Included in that training, I spoke of the benefits of using pre-class activities for the time when students start arriving until the actual class begins.
We recently started a big focus on teaching memory work in our elementary age classes.  We are teaching "drills & skills" along with memory verses.  Since a basic drill for children to learn is the books of the Old & New Testament, I wanted to show a few ideas for pre-class activities where children can practice putting books of the Bible in order.
I found this first idea on Pinterest.  I took a package of clothes pins and wrote a book of the Bible on each pin.  Children will put the books in order by fastening the pins to a clothes hanger.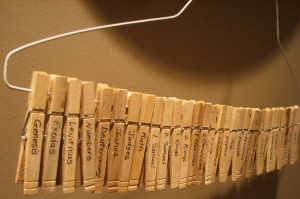 Next, I used a black permanent marker to write books of the Bible on plastic cups.  I bought these very inexpensive cups in a package at Walmart.  When the children arrive, I have the cups spread all over the table.  Children can work in a group or individually to stack the cups in order.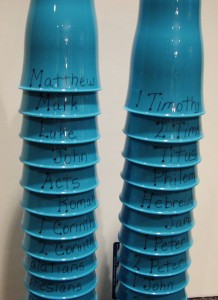 Cookie sheets purchased at the Dollar Tree make the perfect backing for these magnetic book of the Bible.  You can find 8 1/2 x 11 magnetic sheets at Walmart or office supply stores.  It is a little pricey (like $15 for a pack of 5 sheets at Office Depot), but I got all my New Testament books on one sheet.  You run the magnetic sheet through your printer like any other piece of paper.  Students can put these books in order.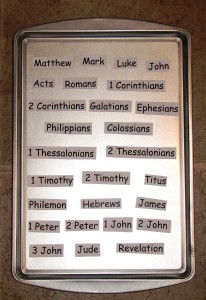 If you have any ideas for making activities, I'd love to hear from you!