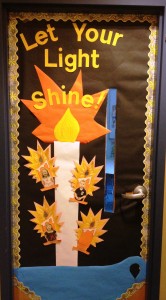 This morning, I needed to take a few things to our teacher's resource room.  As I walked down the long hallway, I couldn't help but notice some really cute door decorations on our children's Bible classrooms.  While most every teacher's classroom has one or more bulletin boards to decorate, we often neglect the door that enters the room.  Your doorway may be the most important part of our classroom decorating.
The door is the first thing a student or parent sees as they enter your room.  What impression are you leaving?  Is your door showing that children are welcome here?  Is it up to date and appropriate?  What I mean is that if your door decor is seasonal, have you now changed it to fall or are you still talking about spring flowers or worse yet, a snowman?  Is it age appropriate? A fifth grade student may not feel the connection with cute baby animals that a two year old would.  Do you have something on your door that tells students that this is "their" classroom?  I love when the decorated door has a child's name or picture posted on it.  It really gives those children a sense of belonging in this place!  For our visitors, a welcoming entrance shows that we have teachers who are interested and who put time and thought into their class.
Here are a few of the doors created by our teachers that I saw as I strolled through the hallway.  Please excuse the quality of the photos.  The lighting was poor and they were taken with my phone.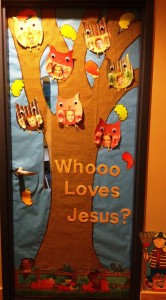 Who doesn't love owls for a fall door?  I love how this teacher used the children's faces on the owl!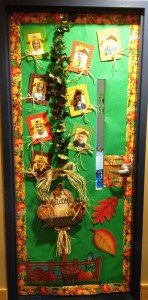 Here's another fall door with some 3D effect by using a garland, raffia, and a wooden sign along with her student's pictures and fall leaves.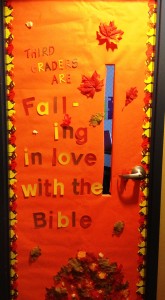 This door is simple, but so colorful and again uses a 3D effect with silk leaves gathered into a fall leaf pile.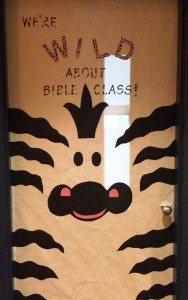 Last but not least, this adorable animal door is on our cradle roll class.  Really cute and totally age appropriate!
If you have any bulletin boards or door decorations that you think are super cute, please send them to me.  I'd love to have and share your ideas!
Send your ideas to: higginbotham.kim@gmail.com