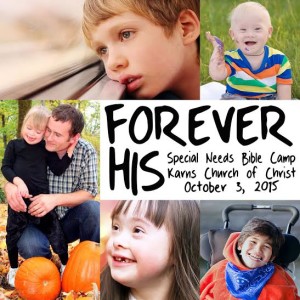 In my last post, I told of how our congregation at the Karns church of Christ decided that we wanted to be proactive in reaching out to children and their families in the special needs community. Never being a part of something like this, I felt somewhat overwhelmed and unsure of where to start. To keep things relatively simple, I decided that a one day VBS type day might be a place to begin.
We needed a name for this group. My husband mentioned "Forever His" which was not only a name, but a description. It was perfect! These little ones are now His and will remain in child-like innocence throughout their lives.
Once I had some rough ideas of what I wanted to do, I went to the elders to present my thoughts. They were totally encouraging of my ideas and gave approval to move forward! Once a date was set and I began telling people, there was no turning back!
You may be asking, "What is different about this day from a typical VBS or day camp?" I am all for these kids being included in our regular Bible programs. With modifications and assistants, most children can integrate into regular programs. However for this day, we wanted the child with special needs to be the focus. There are many considerations which are not needed with typical kids. What do you do with a child who has seizures, a feeding tube, a catheter, or other medical needs? What about the 6th grade child who is wearing diapers? What about a child with autism who has severe behavior issues and extreme sensory sensitivities? What about a child with special dietary restrictions? How do you accommodate a child with mobility issues? What do you do with a preschool child with autism who likes to pull fire alarms and run into the busy highway? How do you fully include a child with limited communication? Get the idea? There are many more considerations for a day like this than what curriculum we will choose or what kind of snacks we serve!
We decided to call this a "Fall Day Camp". We decided to limit this first event to around 15 children. At this time, we are not including siblings (just to keep things simple), but hope to include them in future activities. We set the date, planned a fall theme, and made a schedule of activities. These activity stations include songs, Bible story room, games, crafts, and outdoor activities. All these to be conducted similar to typical VBS, but with necessary accommodations. My husband created a beautiful brochure (http://karnscoc.org/download/forever_his/ForeverHis.pdf) and advertising of the event began. Our church secretary created a very detailed registration form for our church website where children could be signed up (http://karnscoc.org/foreverhisregistration). I scheduled a meeting to find out who in our congregation might be interested in volunteering. Volunteer opportunities included groups of people to help with each of our activity stations, set up/clean up, t-shirts, photographer, medical help, publicity, hospitality room for parents, building decoration/registration, and "buddies" for each child.  I was completely overwhelmed by the response! At this point, I have had approximately 70 people who have said they want to help! We limited volunteers to older teens and adults from our own congregation with the exception of one doctor and a speech therapist from neighboring congregations. There will be 2 physicians, 5 registered nurses, 2 speech therapists, 2 special education teachers, and a host of loving, good-hearted individuals! (Have I mentioned yet that we have an amazing church family?)
So that is where we are!  Now just 6 weeks away, I am SO excited! My excitement is for the children and their families who attend, but just as much for our church members. So many have never had first hand experience being around these kids. In fact, I know a secret that our hands-on volunteers don't know yet. They just think they are doing a service and kind deed for children who have special needs. What volunteers don't know is that these children have the potential to change their lives! The children will be their teachers and give them opportunity to learn lessons in compassion, gratitude, patience, and love. Our special guests will let us truly see Jesus and understand Him and His love in a whole new light!