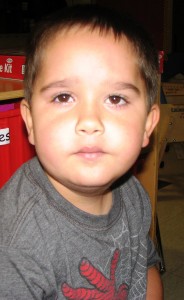 I am quite behind on my blogging due to going back to work full time  as a special education teacher.  I really went back to work for one reason only.  I just missed those kids!  I like typical kids, but I really LOVE my little special needs friends.  I'm not sure why.  I always have.  I feel like I connect with them.  They never cease to make me smile and  joy to my life.
This past week has been hard.  I wanted to use this forum to share one of my little friends with you.  Though I just met him in August, he has made an impression on me that I will never forget.  Little Eric was a 5 year old kindergarten student of mine.  He was just incredibly cute.  He was born with mitochondrial disease which had affected every organ of his body except for his heart.  He took dozens of medications to keep everything working.  He had a cognitive impairment and when he spoke, he had a very sweet tone that sometimes sounded a little robotic.  Often when asked a question that he didn't automatically know the answer to, he would echo what you said while his brain processed the information.  In class, he was incredibly well behaved.  Even when asked to do tasks that he didn't want to do, he would sweetly say, "I don't want to ….."  while holding your hand and walking compliantly along.  (That's a rarity in my class!)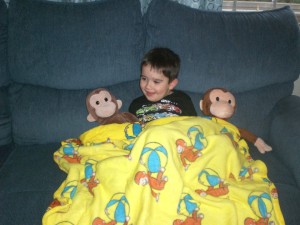 Every morning and afternoon, Eric's mother would drop him off and pick him up from school.  Though Eric really wanted the special bus, he couldn't because the doctor didn't permit it because of some health issues.  Eric loved Curious George and would have them ride to school with him.  In the afternoon, he was anxious to get back into the car so he could see them again.
Last Friday night, I attended a funeral service for my little friend.  Earlier in the week, he had taken a nap after school and never woke up.  During his sleep, he had a grand mal seizure which caused his heart to stop.  What a shock it was!  He had just had good reports from all his specialists.  He had been to school that day and had an exceptionally good day with me.  He was here one minute and gone the next.  I never dreamed when I hugged him good-bye, it would be the last time I would have that opportunity.
There really isn't a "Teaching Help" purpose to this post as in my others.  I just wish everyone had the opportunity to know special little friends like mine.  There was a school psychologist who came to school to help our classroom staff through our grief the day after his death.  She was very kind and helpful, but one thing she said was that we shouldn't question why a little child dies, but we might wonder why children are born with such difficult lives.  I quickly spoke up and said that I knew exactly why they are born.  They are here to make the rest of us better people.  They teach us kindness, unconditional love, gratitude, compassion, acceptance, and a host of other God-like traits.  I believe that from God's perspective, they are the perfect ones and we are the ones with imperfections.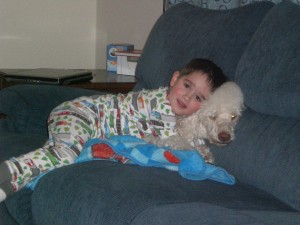 I had the privilege of knowing this little guy who made a tremendous impact on my life.  At his funeral service, there was an open casket with my little fellow dressed in new Curious George pajamas and his Curious George friends sitting on the top & side of the little casket.  It was a sight that I will not forget.  I love & miss you little Eric.  I look forward to the day when we I can play with you again in heaven!