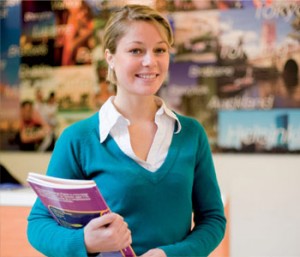 Consider the life of an average children's Bible class teacher.  They may have full time jobs outside of the home.  Most are raising families.  They may be running children to various extra curricular activities.  They are keeping up with housework, cooking, laundry, and errands.  They chaperone youth events, plan ladies days, and help with a multitude of other church activities.  In short, they are very busy people!  Yet somehow, they make the time to plan lessons, make visual aids, create games, put up bulletin boards, and teach a class of children week after week.  Sometimes year after year!
Why do they put in all those extra hours of volunteer work when very rarely do the parents or children come to say "Thank you"?  It is because they know that they are making a difference in the lives of children and in the church!  So with all those unpaid hours of work being put in by those great teachers, what can church leaders do to encourage them to keep up the good work and help make their jobs easier?  Here are a few suggestions:
Recognize and appreciate your teachers.
Have a teacher's appreciation banquet each year.  Don't just have a potluck where the teachers have to cook their own dinner and call it an appreciation banquet.  That may be easy and cheap, but I'd just as soon stay home if that was the plan.  Make a big deal out of it!  Have non-teachers cook, have it catered, or take them to a restaurant.  Give each teacher a gift of appreciation that is not just a token trinket, but useful or appreciated.  A nice tote bag that can be used to hold their class materials, a gift certificate, or a ticket to an event are just a few ideas that come to mind.
Use the bulletin to create a "Teacher's Spotlight".  This article could include a short bio about the teacher and could showcase the work being done by one of your teachers.
Use the PowerPoint or announcements from the pulpit to recognize and appreciate teachers.
Provide adequate resources for teachers.
Provide a well stocked resource room of supplies for your teachers.  Teachers should not be expected to pay for necessary supplies out of their pocket.  They should also have access to educational materials that can be purchased to enhance their lessons.  This would include things like books, visual aids, bulletin board supplies, etc.
Provide training for teachers.  Most teachers want to do a really good job.  There are many who just don't quite know how.  By having a qualified person come in to train your teachers or by sending the teachers to other congregations who are having a training, you will not only be benefiting the teacher, but your children and entire educational program as well!
Find reading materials and professional helps for teachers.  This would include books with teacher helps and ideas, relevant websites/blogs, and even older periodicals like Christian Bible Teacher or Ideashop magazines.
Provide scheduled, planned teacher's meetings.
Scheduled teacher's meetings means regular and fairly often!  I would think every 3 months would be ideal.  Certainly don't go over 6 months!  Remember I also said "planned".  I know I am way too busy to waste an hour of my time listening to someone ramble about nothing relevant.  Give me something worth coming to and I would be more than happy to spend my time there.  I think that is a true sentiment of any busy teacher.  Don't waste my time having a meeting just for the sake of having a meeting.  Wasting my time is more of a discouragement than an encouragement to me!  So make it relevant!
Plan an agenda for a years worth of meetings and keep them short and to the point.  You could make a topic for each meeting such as discipline, using games to teach, how to communicate with parents, how to incorporate new teaching strategies, curriculum, how to encourage Bible class attendance, and the list could go on.  Each session could be a mini teacher training session.  You could include a sharing time to find out teacher thoughts and needs.
As I have said in other posts, teaching is one of THE most important jobs in the church!  Let's do all we can to support and encourage those who spend countless hours preparing and teaching the next generation in the church!