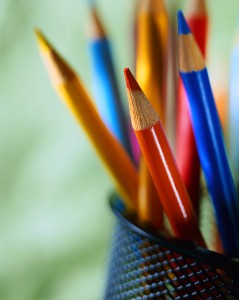 In the first post about resource rooms, I discussed how to get started.  In this post, let's get a little more specific about some of the things that you will want to purchase for that room.
As for bigger equipment, you need a copy machine and a laminator.  You will want to make copies of worksheets, lesson sheets for your class,  make copies of patterns for activities, and many other uses.  A basic and less expensive machine is just fine, though if you have money to spend, it would be nice to have a color copier.
You also need a laminator.  I like to laminate every file folder activity, song chart, bulletin board material, and visual aid (like Abeka flashcards).  By laminating, you will make everything much more durable which will save money in years to come.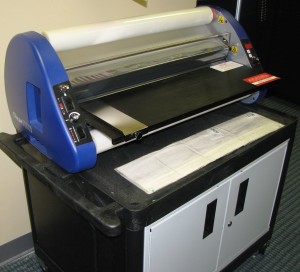 Our particular laminating machine is a Clear Tec 2700 g.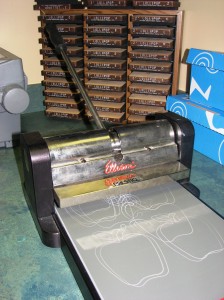 Another piece of equipment that I believe is a necessary, is some type of die cut machine.  Our congregation and many others have invested in the big Ellison die cut machine which has blocks with patterns that cut shapes and letters.  The machine itself is in the neighborhood of $700 with each die cut block around $25 each.  As you can see, that is quite an investment.  Well, here is my suggestion.  For MUCH less money and LOTS more flexibility, invest in a Cricut!   If you are into scrap booking,  you will probably know about these.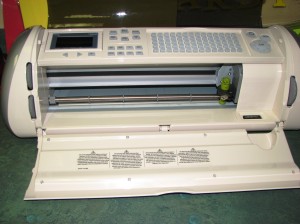 The Cricut can be purchased at any craft store, Walmart, or online.  The one shown above is the Cricut Expression.  There is a smaller version as well as a newer updated version.  It usually comes with a font cartridge, but many other cartridges can be purchased on a variety of topics.  Cartridges can be purchased for $25-$70, but each cartridge will do a LOT more than a single Ellison die cut.  Where an Ellison die cut block will have one alphabet letter, one Cricut font cartridge will do the entire alphabet in every imaginable size, from 1/2 inch up to 24 inches tall!  There are cartridges with themes for every holiday, season, characters, sports/hobbies, and now even ones that are specifically Bible related.  There are currently around 275 cartridges available with new ones being added monthly.  Each cartridge has dozens of possibilities for cut outs.  We just purchased a Cricut Expression machine online for our resource room, but you can also go to craft stores or Walmart.  You will probably pay around $200 for the Cricut Expression machine with one font cartridge.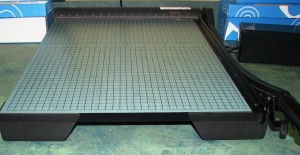 Other necessary things for the resource room would be a good paper cutter, file cabinets, a storage system for organizing games and activities, bulletin board borders and papers, visual aids such as the Betty Lukens flannel board set,  A Beka flashcards, classroom supplies, and craft supplies.
Resource rooms are a work in progress that need to be continually updated and maintained. Creating a functional, well supplied resource room isn't cheap, but it is the best thing a congregation can provide for its Bible class teachers and students.