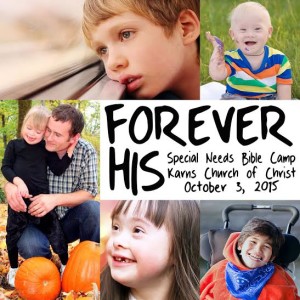 If you know me or have read my blog posts concerning special needs, you'll know that these kids are some of my very favorite people on the planet!  I taught kids with moderate and severe disabilities in the public schools for about 9 years.  I learned more Christ-like qualities from my students during those years than I could have learned in a life-time without them.
During those years of teaching, I became aware of an interesting and disturbing fact. With the dozens of families that I knew, only a fraction ever attended any type of worship service. With the few who did attend, it was nearly always the case that one parent attended while the other stayed home with the child. Though disturbed by this observation, I didn't know quite what to do about it. Unfortunately years went by and I did nothing. Like is so often the case, we get busy with our own lives, children, and jobs that we forget those who are invisible to us in our communities.
Last summer, thoughts of how to include children with special needs and their families came back into my thoughts. I had seen something come across my Facebook page of a denominational group who had a VBS just for these kids. That piqued my interest, so I began researching what others were doing within the church as well as denominational groups. I discovered a disturbing statistic. I read that 80% of families with a special needs child are not attending any type of worship service. These were the reasons given:
My child is not welcomed in any of the children's activities.
When I took my child to Bible class, he was wheeled to the corner and sat there until I picked him up.
It's not worth it. My child cannot handle the sensory overload.
When my child is loud, people stare at us and shake their heads.
I asked the leadership if we could find someone to help my child during Bible class, but I was told that they were not responsible to find me babysitters.
Does that break your heart like it does mine?  I can't help but think, "What if that were my child?" Again, it is easy to ignore this segment of society. It is hard work. It can be messy. It can be costly. It can be disruptive to our routine. But as Christians, how can we let these things dictate our response to those in need? Christ certainly didn't mind messy, disruptive people in His life. In fact Jesus said in Luke 14:12-14 "when you give a luncheon or dinner, do not invite your friends, your brothers or relatives or your rich neighbors;  if you do, they may invite you back and so ­­you will be repaid. But when you give a banquet, invite the poor , the crippled, the lame, the blind, and you will be blessed. Although they cannot repay you, you will be repaid at the resurrection of the righteous."
So now with the approval of our elders, the Karns church of Christ wants to be light to those in the community who have a child with special needs.  We are having our first, (hopefully of many), event to introduce these families to our loving congregation of God's people.  We are all very excited!  Stay tuned for my next post where I'll share more of just what we are doing and how we are getting it done!